Fictional stories and imagined worlds are based on an immediate perception of real experiences, and are therefore connected to the representational world and so-called reality. They are always conceived on the basis of a personal and individual perspective. Thus, the question arises how such fictional worlds actually come into being, how they are constructed, how they are put on paper, and how they draw on concepts of reality.
In Yann Kumbozi's comics, real-looking scenes from urban space in Kinshasa are mixed with the artist's fictional universes. He processes political, cultural and personal influences into timeless stories. Here the comic artist tells us how his worlds are created:
Christ Mukenge: How do you construct your fictional worlds?
Yann Kumbozi: It is clear that the universe of my comics is a mixture of reality and a personal contribution that results from researching various sources. For me it is about finding a balance between reality and fiction: After good documentation and research, I collect pictures, drawings, and I also go to certain places. I modify everything I see so that the reproduction is original and credible … it requires a lot of thought and sketches. It is a real challenge, without which everything would be plagiarism.
Christ Mukenge: What is your inspiration for the characters and the scripts?
Yann Kumbozi: It's easy to see, you just have to look at my comics: I mostly draw characters. For my scripts I rely on my youth, probably because I am young myself. I try to interpret my own experiences, what happens in my environment, and what I liked at a friend's house. These are often my sources of inspiration.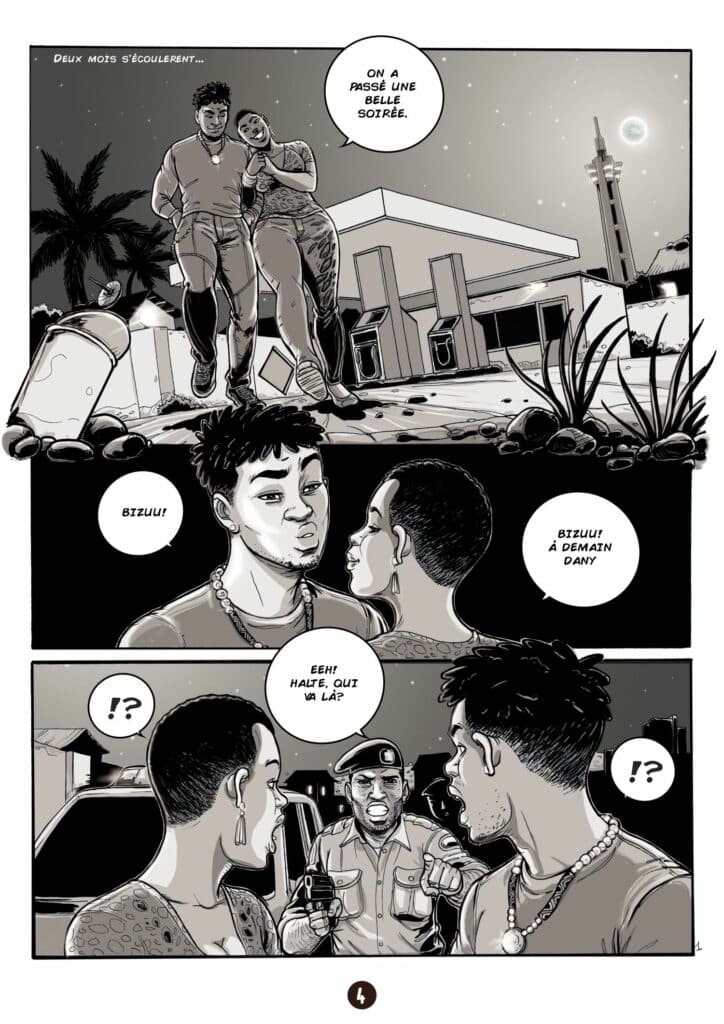 Christ Mukenge: What is the connection between reality and fiction in your stories?
Yann Kumbozi: Oh, that's a difficult question, but I would say that reality, if it were only told, would be irrelevant. Through the possibilities of visual art, people can engage with things they have never seen, and thus develop individual ideas through fiction. But fiction is very pragmatic, and I use it to give meaning and life to my stories. My stories, even if they are inspired by a certain reality, may become interesting, and that is what readers like … In short, the link I make in my stories between reality and fiction is found in the narrative, and if it is well structured in the story, it should make the reader love the story and relate to it.
Christ Mukenge: There are also elements of traditional Congolese mythology: What do you have to do with traditional mythology? And: Do you transform these traditional stories or do you try to illustrate them?
Yann Kumbozi: All Congolese are associated with a mythology that comes from their ancestors. I am descended from a Mukongo and a Swahili, and I think this leads me to insert some mythical aspects into my comics … I must also admit that I love the legend of "Congo and Luba", and this connection allows me to illustrate it in my stories… The links between Congolese mythology and my comics remain purely instinctive, and this is clearly due to the fact that I have Congolese blood myself. I don't transform these traditional stories, I obviously only draw inspiration from them when my scenario is in line with the mythology … I rewrite it in my own way, add my own touch, which allows me to be more inventive and creative. Apart from the "Youth" and "Mythology" pages, I want to introduce a didactic page in my future adventures. Didactics and fiction are closely related, even if Congolese comics are generally more didactic. Comics have precisely this particular strength to bring an original, funny and lively touch to school and to sensitize readers to controversial topics.