Barly Baruti generally takes at least two days to create a comic page, and each page has its own complexity. For Baruti, a comic page begins with the scenario. He then designs the layout, setting the rhythm of the story and sketching the rough shapes in pencil. From the sketch, Baruti finally highlights the detailed shapes with black and coloured ink, watercolours or gouache. For this he uses a special comic technique, direct colouring ("couleur directe"). In this process the colour is applied directly to the original ink drawing instead of to a photocopy. Colour and black contour lines are not separated, which means that the visual result is on the same level of the painting.
This elaborate technique can be seen, for example, in the comic strip "Madame Livingstone: Congo, la Grande Guerre", published by Glénat in 2014. Its story is based on a historical narrative about the First World War and its effects in Central Africa. In a script with dialogues and hints, the scenarist Christophe Cassiau-Haurie determines the course of the story. Baruti as draughtsman then has the freedom to interpret the scenario and to translate it into a pictorial form. In these drawings, Baruti sometimes completely dispenses with black outlines, and so the flowing transition to the painting, i.e. the painted comic, is created. Partly in black and white, the direct colouring creates a distinct spatial depth in individual pictures.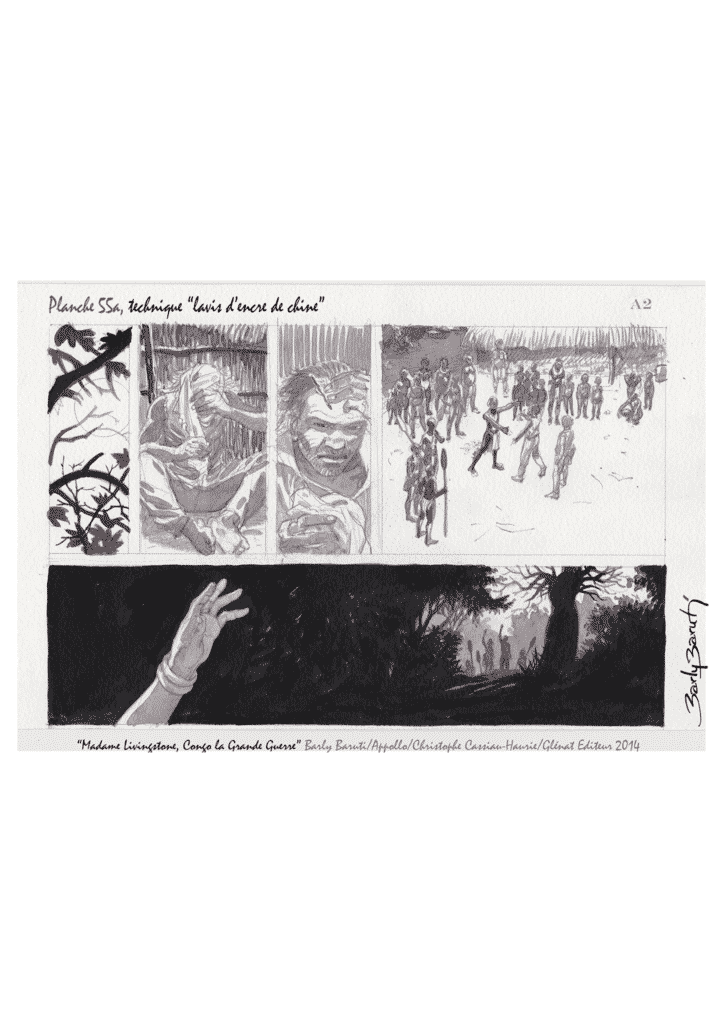 Sketches and drawings for: Page 55 of the album "Madame Livingstone: Congo, la Grande Guerre", published by Glénat, 2014.
---
Al'Mata usually works on a comic page for three to four days. Before he starts drawing, he deals intensively with the scenario and the story's universe. Communication between the scenarist and the draughtsman is crucial for a good drawing. Only if the scenario has a good rhythm and an interesting tension curve, can Al'Mata create impressive pictures as a draughtsman.
Therefore, he looks at photos and videos of the location where the scenario takes place before he starts drawing. He uses sketches to capture the first impressions. Then he creates roughly drawn storyboards as a first idea of the larger structure of the story. Finally, he works out the comic pages on watercolour paper in A3 format. He starts with an ink drawing that defines light and shadow in the individual scenes. Then he applies watercolours, ink or even coloured pencils.  Everything on Al'Mata's comic pages is traditionally done by hand; he has never used Photoshop and does not want to use digital tools in the future.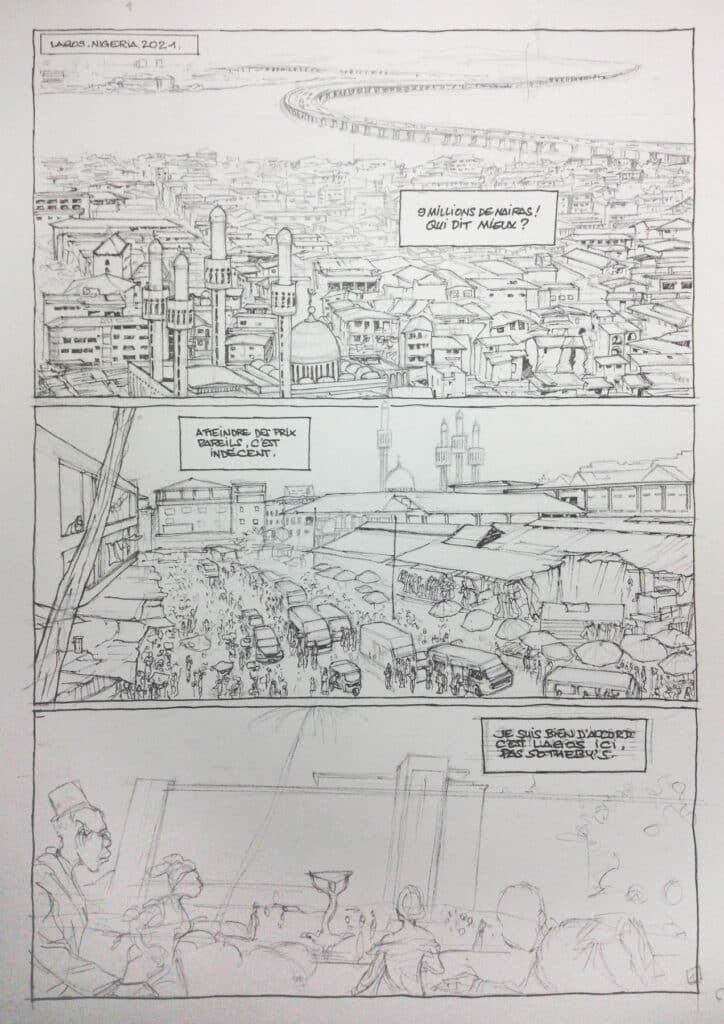 Sketches and drawings for: "Alphonse Madiba dit Daudet, Tome 3"; the album is due to be published by L'Harmattan BD in 2022.