The history of poor and popular image circulation has roots in the leftist traditions of media distribution. One such strand is indebted to the history of agit-prop of early 20th Century Soviet Russia.[1] This follows on the argument made by the artist and theoretician Hito Steyerl as explored in the preceding text to this appendix, namely "In Defense of the Popular Image" (May 2021). In her writings, she makes the statement that the history of poor image circulation is indebted to leftist image cultures such as agit-prop:
"The poor image – ambivalent as its status may be – thus takes its place in the genealogy of carbon-copied pamphlets, cine-train agit-prop films, underground video magazines and other nonconformist materials, which aesthetically often used poor materials."[2]
What is of interest here, is the etymological character of the neologism: to agitate means to move and circulate; and to propagate signifies dissemination and sowing. A popular image holds precisely these two qualities: a medium to swiftly sow the seeds of information that will propagate the imagination of its readers.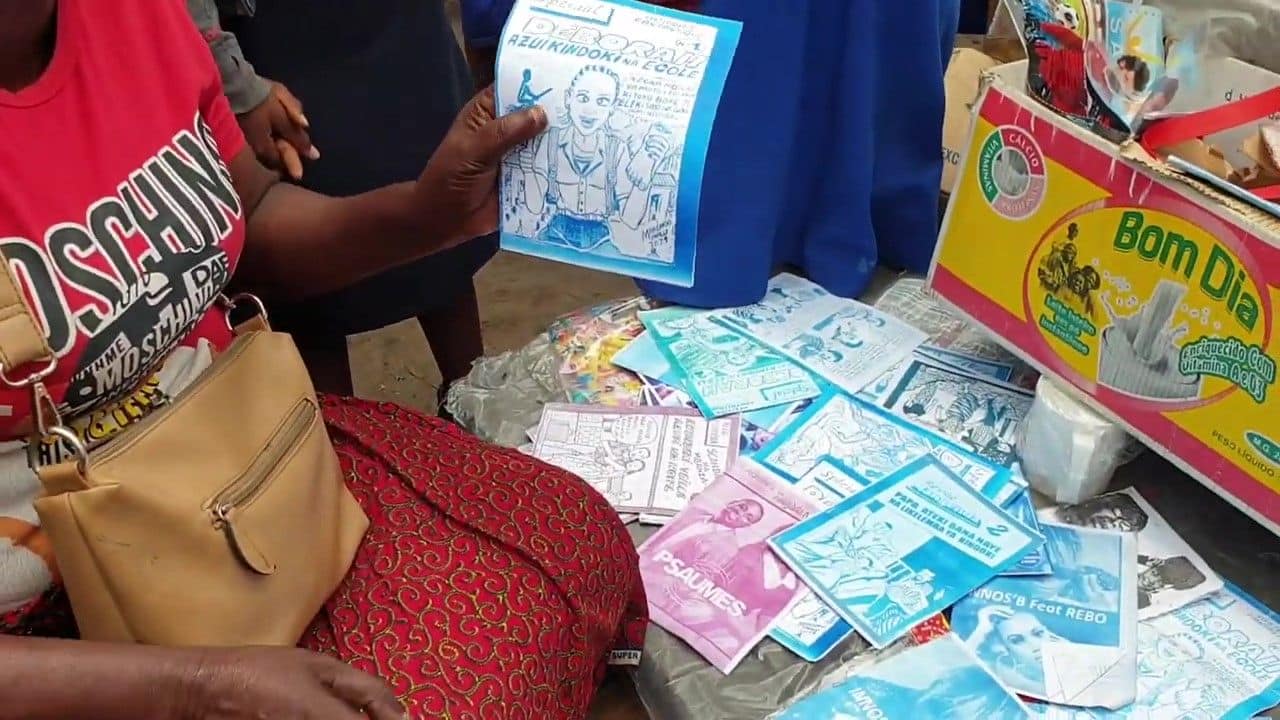 Drawing on the potential of the popular image in the context of Kinshasa, we find that the production of comic books and magazines by Rocky Productions hold precisely this ability to move people with the power of the image. Contrary to the state-run, centralized propaganda apparatus of agit-prop, the popular images of Rocky magazines are created through a dispersed model from below, as Rocky explains in the interview "Local comic distribution by Rocky Productions" by cultural journalist Ketshia Ngamala.[3] Rocky explains further,
"[…] the ideas stem from our society. Ideas from society about society. Based on that, I think about what we can offer to society about what we can give our children to read. It is like we are giving them a lesson, a lesson about living in our society."[4]
Drawing on the quote above, this new format of distribution might maybe be better put as a form of agit-pop: popular images with the force to move people and their experience of everyday life. Further in the interview, Rocky elaborates that the comic magazines are oftentimes sold by independent vendors in schools to young pupils and in local markets. As such, these comics have a pedagogical function, as a way in which to practice French and Lingala – but also to learn about socio-political issues.
As such, the circulation of Rocky magazines and books build an alternative architecture of distribution. Furthermore, they also create a grassroots system of knowledge production. Hence, the popular images create a self-organized media culture independent of top-down institutions such as schools and governmental bodies.
In conclusion, the importance of this strategy of image dissemination lies in its resistance to domestication or taming of these various knowledge practices.[5] In this sense, Rocky Productions and its network is a vital node in the ecosystem of Kinshasa, whereby interlocal media channels function as modes of resistance to postcolonial dependencies and power structures.
---
[1] In light of the ongoing invasion of Ukraine by Russia, the history of image production and circulation in Soviet Russia and its current day iteration via digital channels should be considered relevant. For further reading on the digital distribution of (dis)-information, fossil fuel infrastructures and media cultures published during the first 100 days of the invasion, see here: https://www.e-flux.com/journal/126/460518/putin-restoration-of-destruction/; and here; https://www.e-flux.com/journal/107/322782/is-data-the-new-gas/. Accessed: 16 July 2022.
[2] Steyerl, Hito: "In Defense of the Poor Image."; e-flux, e-flux Journal #10, 2009, www.e-flux.com/journal/10/61362/in-defense-of-the-poor-image/. Accessed: 16 July 2022.
[3] Ngamala, Ketshia: "Local Comic Distribution by Rocky Productions"; Popular Images, /en/blog/rocky-episode-3. Accessed: 16 July 2022.
[4] Ngamala, Ketshia: "Local Comic Distribution by Rocky Productions"; /en/blog/rocky-episode-3/. Accessed: 16 July 2022. Based on French quotes from the film, translation into English by the author.
[5] Ruangrupa: documenta fifteen Handbook, Berlin, Hatje Cantz, 2022, page 17.
---
Guest author in this article: OLIVIA BERKOWICZ
Homepage: http://oliviaberkowicz.com/
Instagram: @oliviaberkowicz